Berthing Rates
All prices are per metre unless stated otherwise. Length overall of the boat (LOA) includes pushpits, bowsprits, anchors, davits, pulpits, boarding ladders, sterndrives, tenders, and any other attachments extending fore or aft of the vessel.
Valid from 1st April 2022
BERTHING
 
 
 
 
Annual Berthing
Payment in Advance
4 Quarterly Instalments
12 Monthly Instalments
All pricing includes VAT @20%
<7m
£240
£254
£258
Including storage ashore. Excluding boat lifting, washing, cradles/motorboat stands etc.
7.1 to 8m
£382
£405
£413
8.1 to 10m
£385
£408
£416
10.1 to 12m
£387
£410
£418
12.1 to 15m
£390
£413
£420
Excludes storage ashore
15.1m+
£392
£415
£424
Short Term Berthing
Six Month (April - Sept)
£338.00
Payable in advance
Per Month (April - Sept)
£62.00
Payable in advance, extended periods over 1 month charged at pro-rata rate
Per Month (Oct - Mar)
£22.00
Weekly (April - Sept)
£18.00
 
 
 
Visitor Berthing
£3.00
Including power & water  
Superyachts & Commercial
Price on Application

Terms of business are as published and available in our offices, website or by request. All berth holders are required to conform to the Marina Licence and Rules when keeping a boat in James Watt Dock Marina copies of which are available from the Marina Office. Acceptance of a berth within the marina confirms acceptance of these terms.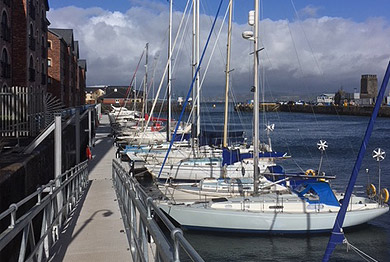 Whether it's an overnight stay or a weekly stay you will always be sure of a warm welcome at James Watt Dock Marina. The local area of Inverclyde offers something for everyone or with rail links only minutes away, why not venture further afield to the cities of Glasgow and Edinburgh. Our friendly team are on hand 7 days a week to assist with all your boating needs.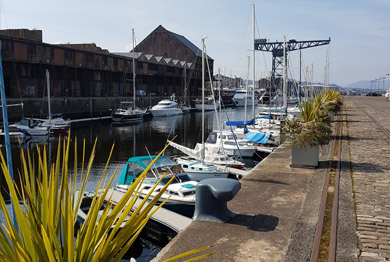 James Watt Dock Marina offers berth holders a sheltered and safe marina to allow all year round sailing. With Annual, Summer and Winter berthing available we have berthing packages to meet all your requirements.