James Watt Dock History
James Watt Dock commenced construction on 1st August 1878 and was completed in 1886. It was conceived to allow Greenock to compete with Glasgow with the aim of attracting transatlantic shipping traffic and establishing Greenock as, "one of the greatest and best equipped British seaports".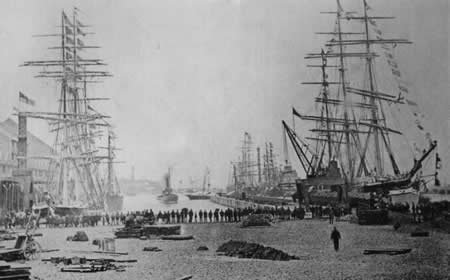 At the time of development James Watt Dock was believed to be the only dock on the Clyde where vessels of large tonnage could be kept afloat at all states of tide. However, the development of the dock was not cheap. The original budget was estimated at £242,885 5s 3d however, the actual outlay by 1886 was £634,343 8s 3d (or £850,000 including the price of the land).
The justification for such an undertaking (and substantial debt) was the great and rapidly increasing volume of trade passing up the Clyde to Glasgow. It was thought at the time that such a facility would allow Greenock to benefit from the larger ships which were being used for trade and passenger traffic that were constrained in their draft to navigate the upper reaches of the Clyde at anything below high tide.
For a period of time this belief held true and allowed Greenock to enter a period of unexampled expansion. In conjunction with staple industries (such as sugar refining and ship building), the boom in trade fuelled significant development leading to the growth of the town.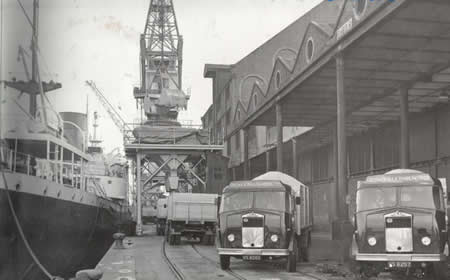 Other docks making up the Greenock harbours include; West Harbour, East India Harbour, Victoria Harbour, Albert Harbour, Princes Pier, West Quay, Customhouse Quay, Garvel  Graving Dock and Great Harbour. Some of these harbours and docks no longer operate as functioning harbours and indeed some have been in-filled to expand waterfront development.
Titan Crane
The large fitting out crane or Titan Cantilever Crane visible as you approach the dock was built in 1917 by Sir William Arrol & Co.
The 150t structure is a Category A listed structure (Historic Scotland Building ID: 34175) and is one of only 4 left in Scotland (40 were built by Arrol & Co and sent all around the world).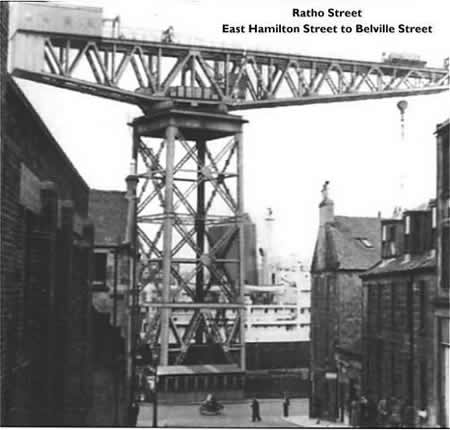 Ship Building
Almost two thirds of Britain's tonnage in iron steam ships was produced on the Clyde with many of the ships built and launched at the numerous yards between Port Glasgow and Greenock.
Demand for Clyde-built ships reached its peak before the outbreak of the First World War with a steady decline in completions and launches. In 1955, 27 new ships were launched from Inverclyde yards but by 1975 this figure had dropped to just 10. Nowadays, the last remaining yard on the lower Clyde is Fergusons, founded in 1903.
Sugar Refining
The first commercial sugar refinery opened in Greenock in 1850 and by 1864 almost a quarter of Britain's sugar refineries were located in Greenock and Port Glasgow. By the late 19th century the sugar trade was booming with up to 400 ships arriving at Greenock ports each year from the Carribean. The most famous of these refineries, Tate & Lyle, was formed in 1921 and operated successfully in the town until its closure in 1997. The large warehouse at James Watt Dock Marina was used for the storage of raw and processed sugar – this category A-listed structure is known locally as the 'Sugar Shed'.
James Watt
James Watt (1736-1819) is the most famous person to have been born in the Inverclyde area. His discoveries and inventions helped to make Britain the world's first industrial power. His work ranged from patenting letter and drawing copiers to undertaking improvements to Greenock Harbour but his name is most widely known through his work on steam power and the industrilisation of manufacturing processes. More information on James Watt can be found by visiting Inverclyde Council's Local History & Heritage pages or by visiting the McLean Museum & Art Gallery.
For more information on Local History & Heritage please click here
For more information on the McLean Museum & Art Gallery please click here
Much of the content of this section has been derived from Robert Murray Smith's 'The History of Greenock' which was published in 1921. A download of the book is available click here
If you would like to make any contributions to this page or have any images of the dock in its commercial heyday then please contact us
Permission for the following photo gallery kindly granted by the McLean Museum & Art Gallery, Inverclyde Council


Resources

The McLean Museum & Art Gallery is located at:

15 Kelly Street
Greenock
Inverclyde
PA16 8JX
Tel: 01475 715624
Fax: 01475 715626

The Museum and Gallery contain a number of collections including exhibits on Archaeology, Egyptology, British and Scottish Art. There are also exhibits covering Local History, James Watt and Maritime Transport.